I trying to figure out if the Motif arpeggiator could be sending any additional MIDI data thru the USB other than what I recorded on the one track that I set up to send to an external tone generator. MIDI does not include the sounds only the event data. If you are playing the data back to the Motif ES, it will trigger the correct sounds, you need only recall the Pattern Mixing Setup you were using. These are not the notes I played. Apply the changes and close I'm sure that is all clear to you, but I'm having a difficult time following what you wrote. I thought maybe there is something wrong with my MIDI send setup?
| | |
| --- | --- |
| Uploader: | Dojin |
| Date Added: | 16 August 2004 |
| File Size: | 45.24 Mb |
| Operating Systems: | Windows NT/2000/XP/2003/2003/7/8/10 MacOS 10/X |
| Downloads: | 99125 |
| Price: | Free* [*Free Regsitration Required] |
When running the VST standalone? The Motif ES can transmit on any single Midi channel.
Firmware and Software
You can select Yamaha as the manufacturer. Please login to post a reply. I was wondering how do I hook up my es8 to an imac running logic pro 9 as a midi controller?. This may cause a difference in how it treats the data. In other words they don't play independently, they wait to play along with the notes I recorded on track 16 when I hit playback again. Moti must not be echoed thru'd back to the ES.
I'm sure that is all clear to you, but I'm having mixi difficult time following what you wrote.
So break it down for me: I am careful to ONLY configure my tracks to only send the one channel of notes out track When you press a Section button [A]-[P] the Pattern will change at the next beat or the top of the next measure, in the time it takes to read that command the Phrase Header ensure the following data is applied.
A "port" is the equivalent of a bi-directional Midi connection. These are not the notes I played.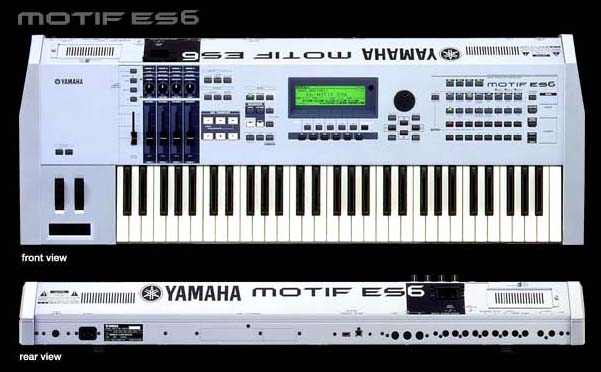 Apply the changes and close …. Please verify and answer.
Firmware and Software – Yamaha – Africa / Asia / CIS / Latin America / Middle East / Oceania
It draws a cable. You only need 1 Midi channel on that first port to trigger your VSTi. Place your cursor at the left downfacing triangle out port and drag to the left triangle of the Motif Device in port. If not, what Tone Generator are you playing it through? I am just trying to put a few of my original composition on paper and improve my note reading skills. I think I need to perform a little more detective work to more precisely determine exactly what are the setting on Motif and VST when I get the held notes, then experiment a bit.
I normally see no dots until I play; however, when notes hang I see green dots even though nothing is being played.
I get rid of these held notes, by simply tapping the corresponding keys. Sometimes I run it standalone and sometimes thru Cubase. They are perhaps predisposed to expect that to be the source. The good news is: Once you record mptif, it is no longer an arpeggio Bad Mister, Thank you omtif much for taking so much time mainly just to decipher my inept writing After reading your latest reply, I think there is no arpeggio involved here.
Is there some way to assign voices to SMF. My settings all seem to work fine meaning the VST plays just what I play on the Motif, nothing more nothing less so long as I play the notes. MIDI does not include the sounds only the event data. I would like to create and use MIDI files for my transcription. It can only generate note events in response to either the Keyboard, or the Sequencer.
What am I doing wrong?